Is Brooklyn in the house?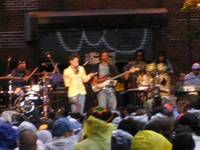 ...because they got the block on lock...
I had moved out of 230 St. James Place, Bed Stuy/Clinton Hill, Brooklyn a few months before my next door neighbor bka
Biggie Smalls,
was shot. On March 10th 1997, the morning after he was shot, I was visiting the hood totally by coincidence but for the last time… until this past Saturday. Through the rain, I was surprised to see
that the fried chicken joint,
was now a halal chicken joint but not surprised to see that the old yellow spray-painted
'Junior Mafia'
tag near the Fulton corner was painted over. And no irony was lost on me when I saw that there's a new little 'drug store' on the corner.
The block parties that used to happen along St. James in the summer months were always warm family affairs with the old folks smiling, kids running around and teenagers scoping each other out as Wu-bangers bumped. One block over, past Gates, they even got some award for 'most improved block in the city for 1995' or '96
or something like that…
So I was really set to criticize
the Dave Chapelle Block Party.
I mean… it didn't feel like a 'block party' at all…
I loved that the set-up was in front of
the old 'Broken Angel' joint,
it was "free" and the line-up of performers was just about flawless. But why couldn't it just be a regular block party? Put flyers up around the hood, hire the same security guards and document the show and crowd! There was so much room on the street it was kind of embarrassing… don't get me wrong I'm sure the bad weather had a lot to do with the small turnout… but so did the catering to the internet crowd rather than the neighborhood crowd (all props due to Okayplayer for holding down 'that' audience on BOTH fronts). And when
D
'applied' for tickets the form asked for age, height, weight! Ethnicity! Eye color! Hair color! A movie can be cast based on whatever the director wants… but don't front like this
a new Wattstax.
But like I said I was really set to criticize but then I read
the LOVE
and I realized… well OF COURSE it was one of the best shows ever put together…
If I was going to list some of the strongest shows I've seen it would include Black Star (at the old Tramps), Fugees (at Tramps), Kanye (last year at SOBs with Common, Kweli, Twista…), Big Daddy Kane (at Joe's Pub), Freeway (controlling the crowd at House of Blues New Orleans), Common (at Summer Stage and BB Kings), Badu (opening for D'Angelo) and Dead Prez (at SOBS with Tahir, Killer Mike, Youngbloodz…).
Put all of them together with the Roots and I can't be mad at that…well maybe a little… ONE, I got there late. TWO, I left early because of weather and hunger. THREE, I had to suffer through a Jill Scott set… nuff said.
I, of course, WILL watch the cable broadcast because I know Michel Gondry will take out all of the LOOONG breaks between sets and take out the empty street space behind the cameras and put in some backstage stuff. He better… I'm already thinking that
Spike Lee could have conjured his Brooklyn crane-shots,
parted the clouds and had Erykah hitting the double-dutch with some BK school-girls.