'Welcome!' to Scoville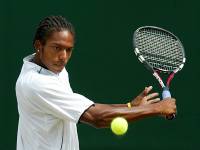 I know you gonna let me shine and get mine
Seventeen year old Scoville Jenkins, repping HTL stepped to the International Tennis Organization like
Jigga's old boys…
"Ayo ITF, can I get Open?"
"You know it!"
said the ITF, "but first you gotta get through the USTA Boys 18s National Championship."
Sco became the second black player to make it into said finals (after James Blake) since the tournament began!… and then went on to win it!… and then got the wild card spot to compete in the '04 US Open!… and then…(screeeeech!) drew Andy Roddick for his first round. A-Rod of the courts… the player ranked number TWO in the world. Sco was ranked 1,441.
So we're in the
Arthur Ashe Stadium up in Section Nosebleed, Row Way-the-fuck-back-there...
and the crowd is welcoming Scoville, the underdog, to his first tour-level event. "Let's go, Sco!"
WHAM! The first match flies by. 6-0.
There are big cheers for every good play that Sco puts out there but dumb fumbles and easily missed strikes at the net showed Sco's inexperience. But the crowd keeps cheering… at least until Roddick loses one game… OK maybe two… four?
Even if Sco could handle the heat from the spotlight on Roddick, my man was completely overwhelmed by his serves. Sco got served, fo' reals!… at 152 miles per hour!… the fastest serve EVER fired at the Us Open!
I was hoping a young black dude on the come up could show 'em how the south do but Roddick stepped in like he knew
Juicy J
bringing it like 6-0, 6-2, 6-2.
Summary: Sco brought the dirty dirty but Roddick mopped the floor.
And apparently Sco made TEN times his career earnings by getting served in this one match.
I'll be checking for you in the future though, Sco.
In-between-time you kick back to
"S. Carter Tennis" ("Advantage: Jigga")
with a beat using tennis court sounds and
Mike Jones
over the same beat.
(charge the MJ track to
Government Names
)