Gung Hay Fat Choy (Part 1)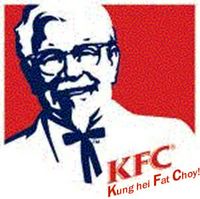 I always thought The Colonel looked Asian!
"Gung Hay Fat Choy" translates as something like "May you become prosperous" but it's basically the "Happy New Year Greeting" that we learned as kids in the Cantonese-heavy San Francisco of my youth. The Lunar New Year 4703 (BKA "Chinese New Year") begins Sunday January 29th of 2006. If your age is evenly divisible by 12… you are a dog!
Coincidentally a few mixtapes arrived in my mailbox via IAP and they inspired, of all things, a three part "Gung Hay Fat Choy" wish
To be quite honest, today's tracks are pretty superficial references to Chinese culture but at least they don't reference the rapper-classic 'chinky eyes' in descrbing the heavy lidded. Willie The Kid (down with the Aphilliates) compares the strongest love in the hood to the affection his peoples have with Chinese slippers, Chinese weave shops, Chinese food spots, Chinese
"letters"
in tattoos and Chinese nail shops (which are probably actually Korean nail shops… not to perpetuate stereotypes but…). He even refers to Jin's career in the last line. OK… so it's not exactly on the level of Wu-Tang science but it's better than that Fugees skit and more substantive than a "Chinese Arithmetic" lesson from Eric B & Rakim.
The Clipse once again get away with a cold violent lyric twisted into a clever simile. On their chorus they let Pharrell do the vocal hook 'sounding like Chinese Year'. Newsflash: No references to 'China white'!!
Both tracks from
DJ Sense - The Trendsetter Vol One
Willie The Kid – Chopsticks (produced by Detroit Red)
Clipse, Pharrell, Roscoe, P. Coldchain – Chinese New Year