wood wheel, white guts and jordan tweezies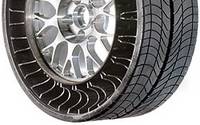 if I rapped I'd say somethin' significant
but now I'm rappin' 'bout money, hoes, and rims again
Mannie Fresh may have to rethink
his post-bling philosophy
once
the tweels
hit the roads.
Even the name has a dirty fabulous ring to it like a mash-up of 'trill', 'one-tweezy' and 'twi' (that's 'totally wid it').
Norman Mayersohn reports for The NY Times
that the Tweel is
an experimental tire and wheel combination developed by Michelin, (and) is designed to replace today's air-filled tires. Flexible polyurethane spokes deflect over obstacles.
And of course
military vehicles… would come years before automobiles…

Almost everything else about the Tweel is undetermined at this early stage of development, including serious matters like cost and frivolous questions like the possibilities of chrome-plating
.
Frivolous!?!?!