never thought that hip-hop would take it this far
It's been eight years since the death of the Notorious B.I.G. on March 9th 1997 and almost 11 years since my only (very brief) personal interaction with him. The morning of March 9th 1997 I had returned to my old apartment on St. James to pick some things up from a friend that still lived there. The reporters outside of the building tipped me off that something was up but I had no idea. When I heard the news I left a message with Max Glazer of 'On The Go Magazine.' I said 'I want to write something about Biggie…' This is the piece from March 13th 1997…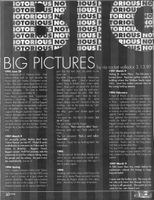 unbelievable
The urge to draw comparisons to the current beef between 50-Cent and The Game are forgiven... but mistaken. BIG didn't feed the fire the way the Aftermathematicians have. Biggie actually seemed honestly baffled by the allegations from former-friend Tupac. Biggie's death was related to the beef that had developed around him but since he was clearly a non-participant (meaning no dis records directed at Pac) his death was TRULY senseless and doubly tragic. It would be a stretch to call him an 'innocent' bystander but I am always baffled and frustrated by the way history has framed the Biggie and Tupac 'beef.' What if you had a war and only one person showed up? In this case, apparantly, both sides still have to die.
When the video for 'Hypnotize' hit MTV it was his SMILE that was more disarming than any gun talk or special effect could have been. Biggie looked happy! Not to say that he NEVER was happy before but to emphasize how rare it is to associate JOY with a rappers chosen image… especially on such a highly anticipated sophomore album by the 'East Coast gangsta' revivalist.
As his neighbor I heard him practice (over and over) the verses that would become
'Come On'
from the posthumous 'Born Again' LP but more famously known from the live freestyle with Tupac preserved by Mister C.
Notorious BIG, Sadat X – Come On